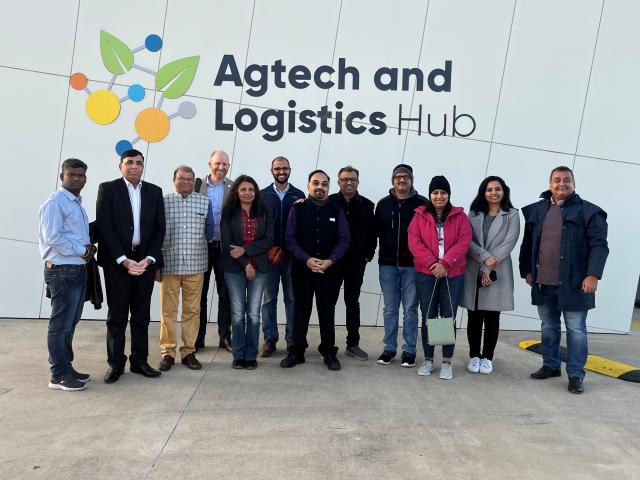 Some of India's leading agribusinesses have visited Toowoomba's Agtech and Logistics Hub to see the latest innovation in Australia's agrifood sector.
Among the best agtech providers in the field presented their products to the delegation, which is seeking to invest in agtech and strike new partnerships in Australia, potentially worth millions.
With a stronger trade relationship emerging between Australia and India – and the signing of a free trade agreement in April – the trip was an opportunity for investment and partnerships between businesses in both countries.
Major Indian agribusinesses represented included Captain Agri Machinery, Tractor and Farm Equipment Limited, DCM Shriram, Samunnati and Sangha Group.
Government officials from India's Ministry of Agriculture and Farmers' Welfare also toured.
As part of its week-long trip, the delegation visited Toowoomba on 2 June where they heard from Australia agtech experts in areas such as satellite imagery and traceability.
They also saw infield tech, tractor tech and AI technology for growers.
Agtech and Logistics Hub director Thomas Hall said it was an honour to host the delegation and to introduce them to some cutting-edge technology.
"The delegation included representatives from major agribusinesses in India that are looking for solutions in areas such as food quality, traceability, provenance, sustainable agriculture, digital farming and automation," he said.
"The Hub has been working very closely with Australian innovators to solve these types of challenges with a view to grow and diversify the agricultural value chain through the development and adoption of innovation and technology.
"It was great to introduce the delegation to a host of agtech experts and innovators, so they can work together to solve challenges and commercialise ideas."
Among the delegates to visit the Hub were Mr T.R. Kesavan, group president, Corporate Relations and Alliances for TAFE Limited, the world's third largest tractor manufacturer and India's largest exporter of tractors and agricultural equipment, including to Australia.
Mr Kesavan was interested to look at the advances Australia was making in water management and robotic weeding technology.
"It all adds up to potentially huge savings for both the farmer and the wider environment," he said.
"At the same time, there's much that India is doing, for instance in the area of traceability, that is equally applicable to Australia.
"There is much that we can and should collaborate on. The strengthening ties between our two countries opens up so many opportunities for our agtech companies."
John Southwell, Trade and Investment Commissioner, Mumbai – Australian Trade and Investment Commission (Austrade) said Australia was famed for quality, green, safe produce and cutting-edge agricultural technology.
"Austrade has brought Indian agribusiness leaders to experience Australia's innovation up close in Toowoomba, one of the world's leading agtech hubs," Mr Southwell said.
"The strong relationship between farmers, industry and research institutions drives innovation and collaboration.
"It enables improved domestic food production efficiency and supports the export growth potential of the sector.
"The signing of the Australia-India Economic Cooperation and Trade Agreement (AI-ECTA) will fuel mutually beneficial ag-tech collaboration.
"Austrade encourages Indian and Australian agribusinesses to forge partnerships from manufacturing products using Australian intellectual property to food processing to bring benefits to both nations."
Joint Secretary for India's Ministry of Agriculture and Farmers Welfare Shomita JS Biswas, said: "The delegation is a learning opportunity for the Indian side and the sharing of experience will deepen the relationship between India and Australia."