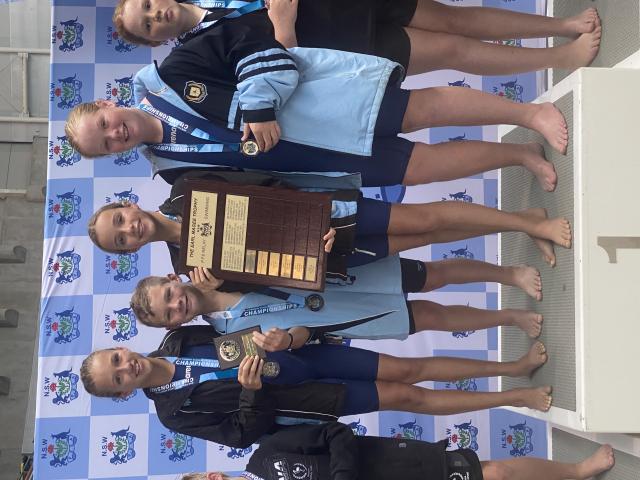 By Fiona Gowers
The athletically-blessed gene pool that has swirled through North Star Public School for generations has once again left others in its wake.
Boasting just 20 students – and situated in a town in North West NSW without a pool – a relay team from the big-hearted small school has won gold at the state swimming titles.
Indya Doolin, Annabel McMaster, Sophie McMaster and Thomas Crichlow clocked a blistering time of 2:35.33 to clinch the Earl McGee trophy at the NSWPSSA hosted at SOPAC in Sydney.
Schools with less than 25 students compete in the relay, with qualification gained through wins at the North Star Public School carnival, McIntyre district, Moree zone and, finally, Armidale regionals.
"We thought, 'Are they as good as we think?'," said long-time North Star Public School PE teacher and sports organiser Sue Nixon.
"And, then they went down to Sydney and we said, 'Yep! They're as good as we think'!
"They pulled it off and the whole community, right up through Goondiwindi, is so proud."
"It's a very big honour to be in the North Star relay team."
The school previously won gold in 2001 and 2013 but claimed the Peter Dobson trophy then, a bigger division for 55 students or less.
Ms Nixon, who has been at North Star Public School for 35 years, said it had long won district athletics and swimming carnivals, and the handicap category at bigger events, such as Moree.
"We do face the tall poppy syndrome here," she said. "People will say, 'argh, not North Star again!' We are a fairly big step ahead of the other small schools.
"I credit the students' gene pool – they are all so athletic – and just their love of all sports. Also, the amazing parents who are willing to drive the miles."
Pre-Covid, the swimmers travelled 45 minutes to Goondiwindi to train in a squad twice a week.
But, due to pandemic border bubble restrictions, they pivoted and drove 1 hour and 15 minutes to Warialda, on the NSW north west slopes.
And, in the lead up to Sydney, Hamish and Karen Backus of "Gunnamatta", North Star allowed the children to practice their change-over technique in their 25-metre lap pool.
"We don't get to train morning and afternoon like the Sydney kids do," Ms Nixon said. "So, twice a week is a long way behind 10."
North Star Public School parent Camilla Doolin, Myall Downs, North Star said winning the Earl McGee Small Schools Relay was an unforgettable moment.
"It was such a thrill for the kids and, yes, a huge eye-opener. You know, it's just exciting to be in Sydney and making memories that will last a lifetime."