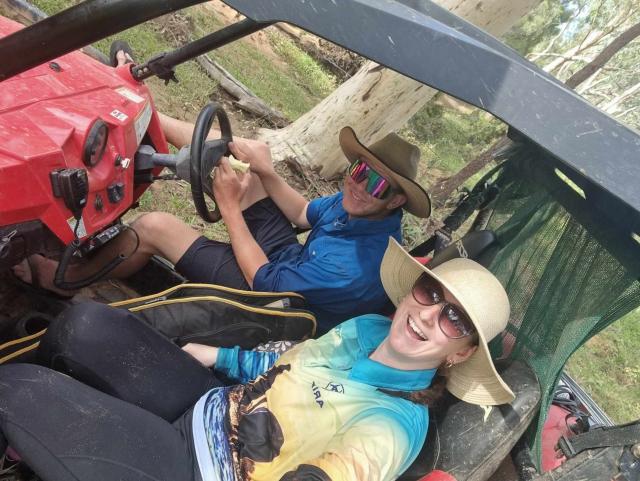 By Fiona Gowers
On a former DPI research station called "Brigalow" near Theodore, Dane Kelsey and Tyler Agius are "livin' the dream".
Since they met in 2018, aged 23 and 24, the Victorian couple yearned to work in outback Queensland; to drive buggies, manage cattle and to learn the ropes on a cattle station.
Now working for record-breaking Brahman breeder Rodger Jefferis, they have certainly landed on their feet.
Mr Jefferis moved to central Queensland to downsize in 2022 after 40 years spent building his breeding program at McKinlay near Cloncurry.
Alongside his late wife Lorena, his team was known for producing – through their Elrose stud – the highest quality Brahman genetics in Australia.
"Cattle have always been Dane's niche and we are so lucky to be learning from such a legendary cattleman who is considered a role model for so many in the industry," Tyler said.
Dane began his agricultural career employed as a livestock trainee covering Queensland, NSW and Victoria, before working mixed-enterprise farms in his home state.
"We have always known that we wanted to move to a station in Queensland and I am so proud we took that big step for our future," Tyler said.
"In June 2022 we started talking seriously about it as both our current contracts were finishing at the end of the year.
"And, we thought, 'If we want to do something like this and go work out on a station and get that sort of experience, 2023 is going to be the year'."
As such, Dane and Tyler joined recruitment agencies that specialised in agricultural placements, as well as specific Facebook groups.
With Tyler's extensive qualifications and experience in child care, they were a match made in outback recruitment heaven.
"Station employers often advertise for couples and we had a few options to choose from," Tyler said. "It was more or less trying to find something that was going to suit us.
"We currently have a basic contract in place, which we wanted. It literally just specifies payment rates, time in employment and notice periods, that kind of thing."
Their day on Brigalow station starts at 6am and, for Dane, often involves mustering the Braham herd, drafting, branding and station maintenance.
His daily jobs include fixing fences, checking stock water and supplying cattle with supplements to support their growth, fertility and sustainability in the ever-changing central Queensland conditions.
Tyler, meanwhile, focuses on domestic duties, gardening and the rural administration side, while working on the station when time allows.
"We wanted an employer who would give me the chance to gain experience in the agricultural field and work with cattle," she said.
"I've definitely been able to achieve that here with Rodger."
And, what have been the positives of working on a big Queensland station?
"It's definitely been a nice experience," Tyler said.
"Station life, especially with the beautiful environment and weather is great and offers a lot more flexibility as opposed to a standard nine-to-five job.
"It has been a little bit challenging being away from family and friends, we miss them.
"But, what balances that out is the fact that we are enjoying ourselves and making good money where we are."