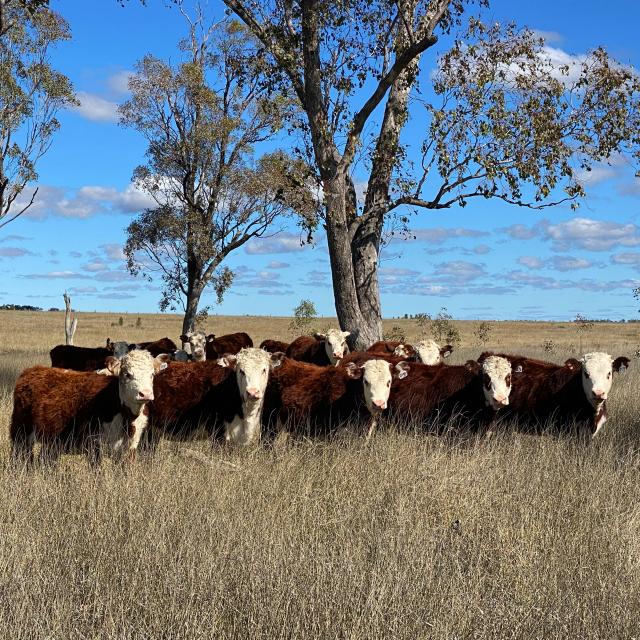 By Fiona Gowers
In 1932, Alexander Nixon founded Devon Court Hereford stud at Drillham, with the vision of breeding commercially-affordable bulls that left viable progeny boasting traits suited to the feedlot and finishing markets.
Today, Alexander's legacy lives on through his grandsons, Tom and Alex Nixon – the third generation – who farm alongside their mother Robyn.
"Grandad was a big believer in buying the best bulls and using their progeny to breed a consistent cow herd," Tom said.
"Dad was the same.
"We find the best animal and then figure out how to make it happen.
"The saying, 'there is no substitute for quality' has been passed down through the generations."
The main bloodlines Alexander introduced – Ennis View, Guyra, Tocal and Mascotte – are still directly linked to the current generation of Devon Court stud bulls.
The family-owned business continues to breed Hereford bulls, of course, integrated with a large commercial herd and grain growing ability on Queensland's Western Downs.
Devon Court now boasts 157 registered cows and 70 replacement heifers, while the 600-head commercial herd includes a mob of 300 Angus and 200 Hereford cows.
The balance are F1 Black Baldy cows.
Tom said non-negotiable traits he sought in sire selection were structure, sound muzzle and head and length of body/ thickness.
"The main thing I learned from my Dad was that bulls need to be able to walk, eat and have somewhere to hang it," he said.
"In saying all of that, in these modern times, we have the added bonus of BREEDPLAN.
"So, as long as the first three things are considered, we must select based on solid Estimated Breeding Values (EBVs) across the board.
"We are pursuing the top 10 per cent for growth and carcase traits, for example eye muscle area, fat and IMF, 200-, 400- and 600-day weight."
Heavy consideration is given to maternal traits such as moderate birthweight, calving ease, days to calving and short gestation.
"But, I'd give those up before structure, sound muzzle and head and length of body/ thickness."
For the past two years, Tom has used US sire NJW Endure 173D.
"I've said it so many times but I think Endure, with his eye appeal, powerful performance and breed-leading EBVs, is currently one of the most influential bulls in the breed," Tom said.
"We followed his progress and Devon Court has since bought three sons, two of which are full ET (embryo transfer) brothers.
"When you see a bull that is used widely and has bred consistently, it was an easy decision to want more of his genetics."
Joining, which in the commercial herd this year will rely entirely on AI to grow numbers, starts at Devon Court on November 23 to allow a six-week calving window to open on 1 September.
Tom said the tight time frame was to facilitate maximum weight gain.
"A six-week calving period also benefits labour," he said. "And it confines the intensity of weighing and testing every calf at birth, information from which guides our decision making on joinings."
Seasons permitting, Devon Court grows weaner steers out to 500 kilograms then sells direct to feedlots.
This year, to celebrate its 90th birthday, the stud will, for the first time offer its best 90 straight Hereford commercial heifers for sale.
Tom said while he would prefer to retain the females, adding them to the catalogue was a gesture of appreciation.
"We want to keep our best females, we don't want to sell them," he said.
"We might be 90-years-old, but we're not going anywhere. We're trying to gain in numbers and pick up our quality.
"But, our commercial buyers are more likely to be able to put their best foot forward on some of our best commercial heifers than they would be stepping into our stud heifers.
"We're a stud based on selling commercially-focused bulls with a few top-end stud sales as a bonus.
"Giving back to our commercial clients is a far better decision."
At its 90th anniversary on-property sale on Tuesday 6 September, Devon Court Herefords at Drillham will offer 34 bulls, of which 18 are polled, as well as the 90 females.
Please contact Tom Nixon on…
Mobile: 0427 276 182
Email: tom@devoncourt.com.au
Website: devoncourt.com.au