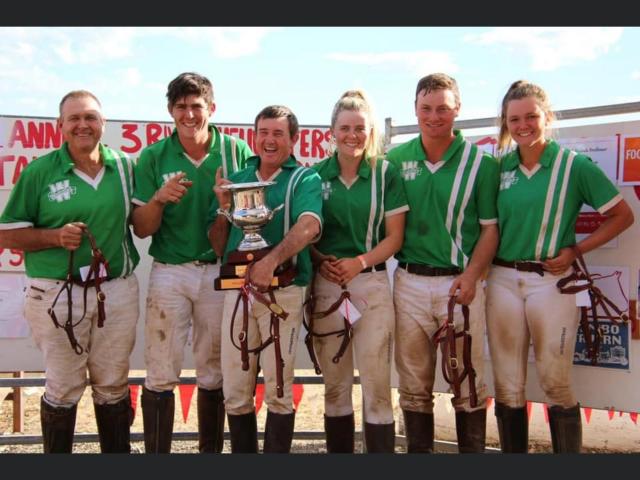 By Fiona Gowers
Kent Wells has reached the peak of his chosen sport, polocrosse as a player, coach and umpire.
He has played for Queensland, represented Australia, coached the national side, contributed to World Cup campaigns from 2003 to 2021 and was a member of the national umpiring committee.
Indeed, the Warwick Polocrosse Club member has given tirelessly to the sport he began playing at the age of seven.
But, Mr Wells says he is forever indebted to polocrosse and the happiness it has brought him over nearly 50 years.
He met his wife, Libby at a game in 1990, has made life-long friends and has many years of fond memories etched in his mind.
"The sport has been fantastic to me and I've tried to contribute back to it as much as I can," Mr Wells said.
"My lifelong friends play the sport, I met my wife through polocrosse and our children, Anthony, 24 and Sophie, 22 now play it with their great mates and love it."
At seven, Mr Wells began playing for Cunningham – his father's polocrosse club – and at 11 he represented Queensland in the under 16s.
"That was a big thrill," he said. "And, I think I was the youngest person for a long time to represent the state at that level."
In 1994, Mr Wells first played for Australia in two wins against New Zealand and then in two one-goal losses to the same country in 2001.
Off the field, he coached an Australian team in 2005 that became the first men's side to win a two-test series in New Zealand, which was "a buzz", he said.
According to Mr Wells, representing Australia as a player was "probably" his biggest thrill. But, it had been as exciting to watch his children represent Queensland.
Another huge highlight was being "chief horse coordinator" for the three World Cups held at Morgan Park in Warwick in 2003, 2007 and 2019.
Seven other nations competed at those events, South Africa, the United States, the United Kingdom, New Zealand, Ireland, Zimbabwe and Zambia.
And it was Mr Wells' task, being the chief horse coordinator, to help source 150 horses from around Australia and pool them into groups of 16 for the internationals to ride.
"There's a lot of work in that," he said. "But, it is a buzz to go and watch those horses play well.
"It's great to have some personal highlights but to contribute back to the sport, including helping to run three World Cups, is right up there with my own achievements.
"Following the 2007 Polocrosse World Cup I was honoured to be a finalist in the QSport awards for Sporting Administrator of the Year."
Mr Wells said while he dabbled in campdrafting, his focus was always to be the best polocrosse player possible.
"I had my ups and downs at different stages depending on the horse I had," he said.
"But I tried to invest my time in making myself a better horseman. Because I realised, if I wanted to stay at the top level, I had to continually improve."
Mr Wells cites the relationship between rider and horse as the secret to success in any equine discipline. He now breeds most of his family's polocrosse horses on Hawthorne stud at Coulson, near Boonah.
"You've got to have a good horse," Mr Wells said. "It's a lot more fun to play your sport on a good horse than one that's not so good.
"I've been pretty fortunate, I suppose. In my 50 years, each horse has probably lasted me seven to eight years, if I found the right one.
"I was lucky enough to have three to four very, very good horses that allowed me to play for Australia and to represent Queensland."
While Mr Wells now lives at Coulson – the base of his farrier business – he plays for the "big, strong" Warwick club, which boasts 80 playing members.
"The beauty of polocrosse is that it caters for everyone," he said. "You have people aged seven to 70 playing.
"It's great fun and it's very fast, like rugby league on horses. It's physical at times and there is a lot of skill.
"Also, it's good discipline for children. My kids, you know, they've got to look after a horse every day, ride them and rug them. They can't just throw it a feed.
"And, most importantly, it's just a great family sport where the children learn good, strong family values."
FACT FILE
* Polocrosse developed from a combination of polo, lacrosse and netball in 1938.
* It is an outdoor team sport men and women play on horseback.
* Each rider uses a cane stick, made up of a polo-stick shaft with a squash racquet-type head with a knotted thread net in which the ball is caught and carried.
* The ball is made of thick-skinned sponge rubber and is 100 millimetres to 130mm in diameter.
* Polocrosse is credited as one of only three truly Australian sports, the other being Australian rules football and campdrafting.
* Polocrosse Queensland currently boasts 1000 players representing 37 clubs in six zones.
Source: polocrosse.com.au