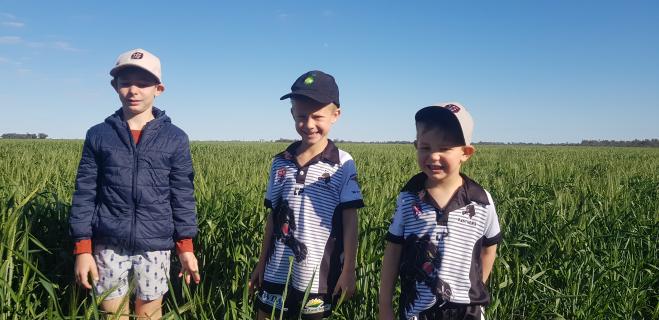 By Fiona Gowers
GPS levelled paddocks have allowed Chris Cook of "Trenmore", Meandarra to sow half his wheat crop this year despite receiving record rainfall.
In all, 400 millimetres has soaked his black soil brigalow belah country on the Western Downs of Queensland since Christmas, with 288mm falling in the past three months.
The annual average there is 600mm.
"Anyone who has got country that is levelled has been able to get on to it (to sow)," Mr Cook said.
"And, any paddocks that aren't finished or haven't been done, yeah it makes it very difficult."
Mr Cook said in 20 years of farming he had never seen it so wet, while his father had experienced it just three times.
"You actually believe the weather bureau now when they forecast rain!" he said.
Mr Cook said his father began levelling the 4855-hectare family property with "landform by eye" Landplane technology in 1990 as in wet years "it made sense to farm more than half the paddock".
With GPS capabilities now established, however, Mr Cook is able to drain remaining wet spots without moving too much dirt.
He then spreads cow manure sourced from local feedlots to ensure the soil instantly responds to newly-sown crops.
"I think people are now realising that it (levelling) is a bit of a must do," he said.
Mr Cook describes his medium-sized operation as minimum tillage, which is a soil conservation system that aims for the least amount of soil manipulation necessary for successful crop production.
Due to this year's wet, it has taken Mr Cook "the best part" of three months to sow his 1416.4ha (3500-acre) wheat crop at the industry rate of 45 kilograms/ha.
Sunmax, Gregory, Coota, Suntop and Suncentral were the varieties he planted based on timeliness and past success.
However, the 400ha of Kyabra chickpeas normally used as a rotational crop will remain unplanted "as we probably won't have any country that's going to dry out in time".
While on the edge of a few little showers "here and there", Mr Cook said his paddocks were slowly drying.
"If we can continue on with the dry weather, all of our early wheat should recover okay because it was fairly well water-logged," he said.
"This last lot of wheat is just starting to come out of the ground and it should be pretty good, hopefully."
Aside from cow manure, Mr Cook also spreads urea and starter fertiliser on his wheat crops and said this year had "hurt a fair bit" with the higher production prices.
"But, hopefully it will pay off," he said.
"And, touch wood, the commodity prices stay where they are and we have a good planting window for our summer crops sorghum and mung beans."