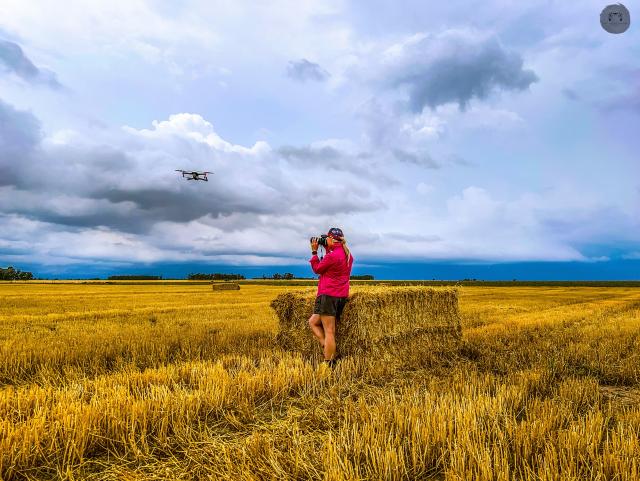 By Fiona Gowers
Drone photographer and videographer Hayley Wolski is passionate about agriculture.
From Chinchilla in the Western Downs, Hayley, 29, was raised on a mixed farm of cattle, cotton, grain and hay cropping.
"There was always something to do," said Hayley, who hopes to one day continue the family farming tradition.
"I've seen the highs and many lows," she said. "But I am always looking forward to the future and have a vision for sustainable agriculture and technology innovation within the industry."
Hayley recently placed second in the Unipak "outstanding achievers" competition, which focused on sharing the personal stories of young people and women working in agriculture.
She was recognised for her work in the agricultural industry as a drone photographer and videographer.
"Drones have been a hobby of mine for some years now and agriculture photography is my favourite," Hayley said.
"Drones have a large future in the agricultural industry so I'm always watching and learning about new technology being released for drones."
After finishing school in 2010, Hayley worked in administration with a local coal seam gas company.
"It is an industry with many different views within the community, some good, some bad, some negligent to the fact it exists," she said.
Hayley's family farm is irrigated, with the water used drawn from the river that relies on coal seam gas separation for its water.
"The same company I work for has a scheme for irrigators along the pipeline to supplement their water, using leftover water from our processes.
"It has been very valuable to us in times of drought."
Now in her 11th year with the company, Hayley has progressed to field operations, which complements her agricultural background.
"In field operations, I am always out visiting people's farms to check pipelines, among other things," she said.
"I have grown up with many of these farmers and, for them, it's sometimes comforting to see a friendly face.
"I'm always looking at people's crops and cattle and letting them know if they have a sick animal or if there's a busted trough or pipe.
"I'm big on animal welfare!"
Hayley has recently bought her first lot of Angus cattle, four cows and three calves, with one more on the way.
"It's something that will grow over time, I guess," she said. "You have to start somewhere!
"But, right now cotton picking and hay season is upon us and about to start so, for the next little while, it will be 'enjoy the early nights at home because it's about to get busy'!"
Hayley said she believed there was a strong place for women in agriculture.
"My advice to any women in this sector would be, you choose who you want to be, never give up and keep trying," she said.