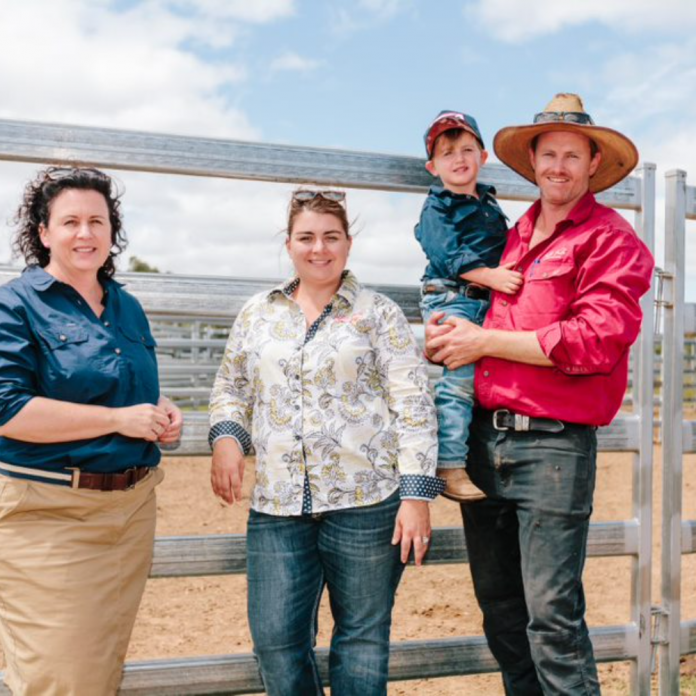 By Fiona Gowers
On a small property some 35 kilometres west of Warwick in southern Queensland, the Cleary family is busy preparing bulls for auction.
What began as a way to help Nikki Cleary's parents' business, Valera Vale Droughtmasters, has become a well-established and sustainable enterprise for Nikki and her husband John.
Contracted by Valera Vale Droughtmasters, the Cleary's prepare and manage all of its bulls, including everything from daily feeding to DNA and genomic testing.
"Our main focus is fertility so, at the end of the day, we want the best fertility with the best growth and genetics," Nikki said.
"Each bull must hit their daily gains and then we'll semen test them, so that way we're selecting the best fertility to continue the genetics."
Two years ago, John and Nikki were run off their feet, quickly outgrowing their existing infrastructure.
"Our set up here was very basic, our bulls barely fit into the crush," Nikki said.
"It was very much a hobby set of cattle yards, which was fine when we had the cows and were doing the weaner trade.
"But, when we moved to the bulls, we needed more room and a better process and it needed to be more efficient."
"You get to the point where it's either bang or bust," John said. "You need to either take the next step because you're verging on the edge of your limit being able to do it properly.
"We really had to make our mind up and go for it and take that extra leap. And, that's what we did."
With the help of QRIDA's regional area manager for the Darling Downs, Kate Dunk, Nikki was able to gather everything she needed to secure a QRIDA Sustainability Loan.
"It definitely made it a lot easier knowing Kate and, having met her face-to-face in the whole process, we weren't just ringing a number and asking a question," Nikki said.
"She had an understanding of what we were trying to achieve and she knew the background and had taken it upon herself to learn about what we were trying to do, which helped guide the application and what parts we needed to show."
John and Nikki used the loan for water improvements including a trough and trenching, additional fencing, installing feed bunkers, upgrading their yards and to complete necessary electrical work to bring the pneumatic crush into the cattle yard.
Both say they still cannot believe how much the upgrades have helped enhance their day-to-day operations.
"In our first year we had 360 bulls here with the old set up and everything was taking just as long as it does now with 550 bulls," Nikki said.
"I think a lot of people don't understand that QRIDA is there to assist you. It's not scary to go through QRIDA, it's just as easy as anywhere else."
"We'd still be struggling day-to-day to what we were doing two years ago," John said. "It just wasn't working.
"We definitely wouldn't be in the position we are now without the Sustainability Loan, it just wouldn't have been possible.
"The hardest bit is to take that jump, you just have to jump and it takes a bit of guts – probably the first phone call – but it's pretty easy after that."
As they look ahead, John and Nikki plan to finish building their cattle yards and growing their enterprise from strength to strength. Feeling optimistic about what's to come, they feel comfortable moving forward in their venture knowing they've set themselves up for long-term financial viability.
"The loan has allowed us to continue with the business. Now we've been able to bring in employees and continue to grow which will make having such an intensive operation viable for us to continue," Nikki explains.
With three young boys, John and Nikki are creating their own family legacy to hopefully pass on to their sons.
For now, John and Nikki will put 120 of Valera Vale's best bulls to auction in September 2022.
And from then, it's a matter of waiting for the next truckload of bulls to pull into their driveway to do it all over again.
QRIDA offers Sustainability Loans up to $1.3 million for producers looking to invest in the latest infrastructure to create a viable future for their farming business.
This includes activities that improve farming system sustainability, natural resource sustainability and financial sustainability.
Visit QRIDA's Sustainability Loan page for more information.